FREQUENTLY ASKED QUESTIONS
Would you please list your books in order?

Yes, here goes:

MISS JULIA SPEAKS HER MIND
MISS JULIA TAKES OVER
MISS JULIA THROWS A WEDDING
MISS JULIA HITS THE ROAD
MISS JULIA MEETS HER MATCH
MISS JULIA'S SCHOOL OF BEAUTY
MISS JULIA STANDS HER GROUND
MISS JULIA STRIKES BACK
MISS JULIA PAINTS THE TOWN
MISS JULIA DELIVERS THE GOODS
MISS JULIA RENEWS HER VOWS
MISS JULIA ROCKS THE CRADLE
MISS JULIA TO THE RESCUE
MISS JULIA STIRS UP TROUBLE
MISS JULIA'S MARVELOUS MAKEOVER
ETTA MAE'S WORST BAD-LUCK DAY
MISS JULIA LAYS DOWN THE LAW
MISS JULIA INHERITS A MESS
MISS JULIA WEATHERS THE STORM
MISS JULIA RAISES THE ROOF
MISS JULIA TAKES THE WHEEL (in paperback May 5, 2020)
MISS JULIA KNOWS A THING OR TWO (available April 14, 2020)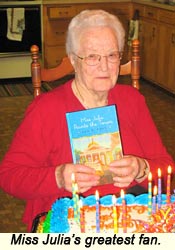 Should your books be read in order?

I tried to make each book stand alone, so that a reader could start with any one of them, but of course I couldn't repeat everything in each succeeding book. And, in a series, characters and their relationships with each other do change and grow, and I tried to show that over the course of the books. For those reasons, many readers recommend starting with the first book. On the other hand, if you happen to pick up a book 'out of order' and enjoy it, there's no reason you can't read the rest of them, either in or out of order.

Back to top


Are you Miss Julia?

Absolutely not! I have three children and five grandchildren, she has never had children. She is a widow; I am not. She is wealthy, and I am not. She has learned to speak up for herself, while I am still trying to be sweet and agreeable. One reader wrote, "I am 79 years old, and I want to be like Miss Julia when I grow up." That's my ambition, too.



Is Miss Julia patterned after someone you know?

No, I have never known anyone exactly like her, although she has characteristics and mannerisms that I have observed in several different people. So, I suppose I can say that she is a combination or blend of a lot of strong-minded, straight-talking women I've known. It is fascinating to me, though, that many readers tell me that they know 'a Miss Julia', and they wonder if I've met their aunt or grandmother or neighbor.
Back to top


How do you decide where to go on your tours?

The Publicity Department of my publisher makes these decisions. They set up a schedule of places, dates and times, and they also make hotel reservations and travel arrangements. All I have to do is pack and be ready to go. My understanding of the way this works is that bookstores, libraries, and groups that want a speaker contact the Publicity Department and make a request for a certain writer. Then the department works out an efficient travel schedule so that I can get to as many places as possible within a certain time frame.


Do you ever speak to a group that hasn't gone through the Publicity Department, but has contacted you directly?

Yes, I often accept speaking engagements throughout the year, not just when I'm on tour for a new book. Unhappily, though, I'm unable to accept all the requests I receive, since I have to allow time for writing, as well as time for my family.
Back to top


When do you write? I mean, what is your writing schedule?

My best writing time is in the mornings, and when I'm actively writing, I try to do it every morning, seven days a week for three to four hours. In that way, the story stays fresh in my mind and seems to flow better. When a speaking event or bookstore appearance interferes with that schedule, it takes me a while to get back into the story and into the routine. I can't write at all, other than occasionally jotting down an idea that occurs to me, when I'm on tour because the days are so full. I'm often scheduled to be in a different city every day for several days in a row.


How did you learn to write?

Honey, I'm not sure I have! I think every writer learns, or at least, perfects her craft with each book or story she writes. In past years I have taken two writing classes which were helpful in learning writing techniques and conventions, but the most help they gave me was in the way of encouragement. When it comes down to it, though, each writer has to find her or his own voice and style, and that comes from actually writing until everything clicks. We can't expect to have a bestseller with our first attempt--like anything else, writing requires practice and constant learning from our mistakes. Some writers take rejection slips as badges of honor--at least they've tried and learned something that should make the next book better.
Back to top


Do you belong to a writers' group?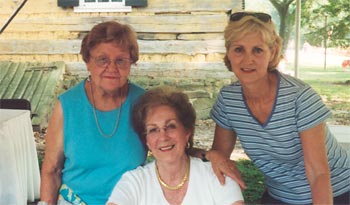 For several years, I was a member of an excellent group that really got me started on the Miss Julia books. I can't thank them enough for their constructive criticism and encouragement when I was feeling my way with this character. If you are interested in joining or starting a group, let me suggest that you look for people who are serious about their writing and who are willing to both give and listen to well-meant and constructive critiques.


Do you ask anyone to read your manuscript before it is published, like a friend or a family member?

No, the only people who read my manuscripts before they're published are my editors and my agent. Since I am on a tight schedule each year, there is not enough time to ask anyone else to read and offer suggestions. This is not to say that you shouldn't have the benefit of suggestions by someone who is a perceptive and knowledgeable reader. Be careful of who you ask, though, because someone who loves you may think that your story is wonderful simply because you've written it, when in fact it still needs a lot of work. You need an objective reader who will be honest with you.
Back to top


Would you read my novel and help me get it published?

I'm sorry, but no, that is something I can't do, since it would take more time than I have available to read and edit a manuscript. It's all I can do to get my own work in shape. And even if I could critique your story, that would not mean that it would be published. Your best bet is to make your novel as good as you possibly can, then look for an agent who will know the editors who are looking for just the kind of story you have written.


How can I get an agent?

It's not easy, but there are a couple of ways you can go about it. Remember that agents, editors, and everybody involved in publishing are looking for the next wonderful book. All you have to do is give it to them. Here are two ways to get an agent:
Go to a Writers' Conference--most states have writers' organizations that meet once a year in a central location. Register early by mail or on line, and sign up to send in a few chapters of your novel (they won't want the whole thing), and be willing to pay the extra cost. Your work will be given to an agent or editor who is a guest of the conference, and you will be given a time to meet with that person for a one-on-one critique of what you have sent in. If they like what they've read, they'll ask to see more, and that will mean you're off and running. And if they don't like it, you will get a professional opinion of what your story needs.
Another way to contact an agent is to go to a library and look for a book that lists literary agencies. The best books will give a paragraph or two telling the kinds of books that each of these agencies want to represent. Some, for instance, will not accept romances or children's literature or some other genre. Others will want only science fiction or only mysteries, so you must read carefully and choose those that are looking for the kind of book you have written. Select ten or twelve agencies that are looking for what you have, and send a query letter and a SASE to each one. Do not send your manuscript at this point. Wait until they ask to see it.
Back to top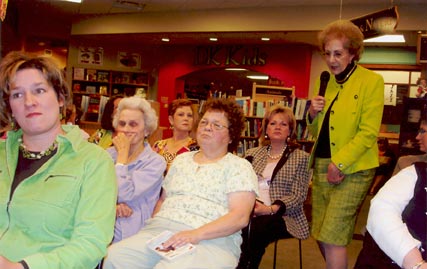 How do you write a query letter?
Ver-ry carefully. Remember that agents and editors get an enormous amount of mail from writers just like you. You will want to make your letter short and sweet, with enough information to pique their interest, but not so much that you bore them. I recommend writing 3 paragraphs on ONE sheet of paper. Do not send a summary of your book, or a long, involved explanation of why your book is so exceptional. In the first paragraph, you should tell them what you have--for example, a 450-page mystery (or suspense story or whatever) about so and so and such and such. Condense the information as much as you can, remembering that with a pile of mail on their desks, they have short attention spans. But you do want to intrique them and make them want to see more. In the second paragraph, you should give your writing credentials--that is, what and where you have published before. In the third paragraph, give a little information about yourself, your educational background, work experience, and perhaps why you are uniquely qualified to have written this particular book.
A query letter tells agents more than just the information you've written down. It tells them that you know how to construct a sentence, that you know how to format a letter (and hopefully a manuscript), and that by your tone and style that you are a writer. So take a lot of time with your query letter--it will be your first introduction to an agent.
Please resist telling an agent that your mother or best friend thinks that your manuscript is better than anything that's ever been published. Let the agent make that determination when he/she reads it.
N.B.: You might also check The Writer's Market in your library. I understand that some agents will now accept email queries.
Back to top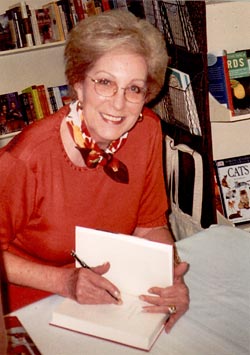 Who are your favorite writers?
Goodness, that covers a lot of territory, but here goes: The writer I most admire is Geoffrey Chaucer, since he made humorous writing legitimate. Over the past century, I would list Harper Lee (To Kill A Mockingbird) and Fitzgerald, and will also admit to admiring Margaret Mitchell's Gone With the Wind for the psychological study of Scarlett O'Hara. But the writers that I consistently read for pleasure are John Sandford, Robert Crais, T. Jefferson Parker, D.W. Buffa, Michael Connelly's Harry Bosch novels, and Laurence Block's Matthew Scudder books, since I love cop and detective novels. I steer clear of novels in the same genre as my own books, since I don't want to risk unconsciously imitating something I've read in them.
Are there any plans for a movie?
Not at this time, unless something is going on that I don't yet know about. Every year, it seems, some producer or another discovers Miss Julia and approaches me with big plans for a feature film, a made-for-TV film or a television series. So far, none has panned out, but if any ever do, I will certainly let everybody know about it.
Back to top

I have a terrific idea for a Miss Julia story. If I send it to you, will you use it?
Due to legal reasons, I cannot accept and use any ideas sent in to me. My attorney is being very firm about this. Many readers have already sent in suggestions, and I've had fun reading them. Unfortunately, though, if you send in an idea that would be terrific for Miss Julia, I would not be able to use it. So your best bet is to hope that I come up with it on my own.
Will you sign my books if I send them to you and include the return postage?
I have very happily done this in the past, but it has become too time consuming to repackage them and take them to be mailed back to you. Maybe one of these days I will have a secretary to help, and then I'll be able to do it again. In the meanwhile, do check the Tour Page to see if I will be in your area. Also, if you have a book to be inscribed to a very special person for a very special reason, you might contact The Fountainhead Bookstore in Hendersonville, NC. (828) 697-1870.  If I'm in town, they will call me to sign a book, then be responsible for mailing it to you.
Back to top
The club I belong to would really like you to speak at our annual luncheon. How can we make arrangements?
I wish that I could accept every invitation I receive to meet with readers of the Miss Julia series, but to be able to write more books, I can't.
So to help keep my writing time clear, you should direct all requests for interviews, speaking engagements, media appearances, bookstore events, as well as requests for author media kits and photographs, to: Ann Day at Viking Penguin Publicity Department. E-mail her at: . Her telephone number is: 212-366-2227
I've never heard the expression, They Lord. What does it mean?
They Lord is an expression commonly heard in the Deep South; at least, in the part that I grew up in. I've heard it all my life, usually said in awe of something or in great frustration. It's most likely a long drawn-out exaggeration of The Lord, both words being given more than one syllable, which is pretty typical of our Southern way of speaking. Try it: The-e-ey Lo-ord.
Back to top