MISS JULIA TAKES THE WHEEL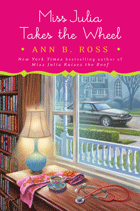 MISS JULIA TAKES THE WHEEL

When Miss Julia's regular doctor goes on vacation with his wife, leaving a replacement in his stead, Miss Julia is immediately concerned. Never one to miss an opportunity to entertain--or size up--a newcomer, she invites the charming Dr. Don Crawford, and his painfully shy wife, Lauren, to dinner. While Miss Julia and Sam both note Lauren's obvious lack of social skills, it's her friends Hazel Marie and Binkie that pick up on some of Dr. Crawford's less palatable qualities.
Meanwhile, Lloyd has gotten his first car, and LuAnne, fresh off her divorce, has started a job at the local funeral home and is in urgent need of an occupation-appropriate makeover--Miss Julia has enough on her plate. Yet there is just something she can't place about the Crawfords, and she won't rest until she gets to the bottom of it.
As always, hijinks ensue as Ann B. Ross delivers this delightful and entertaining installment, Miss Julia Takes the Wheel, in her bestselling Miss Julia series.
Pre-Order now From:
Please check the Tour Schedule page for bookstores where Ann will be appearing on tour in April.  You may call and pre-order a signed and/or personalized copy from any of the listed bookstores before her appearance date.  The bookstore will mail your copy to you if you are unable to attend.

You can also order the Miss Julia books from:
Quail Ridge Books and Music
4381-105 Lassiter at North Hills Avenue
(next to Ruth Chris's Steak House)
Raleigh, NC 27609
(919) 828-1588
qrbooks1@aol.com
For signed and/or personally dedicated books,
please contact:

 

Barnes & Noble

33 Town Square Blvd, #100

Asheville, NC 28803

(828) 687-0681

Market On Oak
262 Oak Avenue
Spruce Pine, NC 28777
(828) 765-0571
info@themarketonoak.com
 
WATCH FOR MORE MISS JULIA BOOKS