CONTACT
CONTACT ANN B. ROSS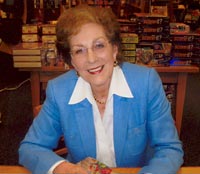 You can contact Ann by way of her email address , but please read the
FAQ Page
first. Many of the commonly-asked questions are answered there, and as different questions come up, they will also be addressed on that page.
In the past Ann personally answered each email she received, but the volume became so large that it was impossible for her to continue to do so. Although she can no longer send a personal response to each email, she continues to welcome your interest in her and in her books. You may be sure that all emails will be forwarded to her, and that she will read them. A few may, indeed, receive a personal response (those that are not answered on the
FAQ Page
).
We are currently in the process of changing our newsletter software, We will have a link available soon that will allow you to subscribe again. we ask your patience while we complete this transition. Thank you!